TIRANE, 25 Korrik/ATSH/- Agjencia e njohur në promovimin e turizmit në botë, Lonely Planet i ka kushtuar një reportazh të detajuar, një udhëtimi të veçantë që sipas tij ia vlen të realizohet për të gjithë ata që kanë shpirt aventurier.
Reportazhi flet për Via Dinarica, një shtegtim i madh, i cili përshkon vendet e Ballkanit Perëndimor, me gjatësi 1930km.
Nga veriu në jug, arteria kryesore është e njohur si Trajektorja e Bardhë dhe përshkon: Slloveninë, Kroacinë, Bosnje- Hercegovinën, Malin e Zi, Shqipërinë, Kosovën dhe Maqedoninë dhe lidh alpet Dinarime me ato të Sharit.
Për të realizuar të gjithë këtë udhëtim do të duhen tre muaj, tre ditë e tre orë. Misioni, shkruan Lonely Planet është që turistët e aventurës të mund të zbulojnë Ballkanin me kulturën dhe veçantitë e tyre. I gjithë shtegu është i markuar dhe ka seksione të ndara në Bosnje, Mal të Zi, Shqipëri dhe Maqedoni.
Shqipëri – Kosovë dhe Kosovë – Maqedoni
Alpet e Shqipërisë, shkruan Lonly Planet renditen në majën e këtij itinerari për shkak të mjedisit surprizues.
Synimi është që të realizohet kombinimi i duhur mes aventurës dhe autenticitetit. Maja të ashpëra, shtigje të markuara, banesa tradicionale, ushqim i freskët dhe mikpritje nga vendasit. Kjo është ajo që ofron ky projekt.
Udhëtimi nis nga qyteti i Shkodrës, për të vazhduar më pas në fshatin e Thethit. Një udhëtim që zgjat 7 orë dhe arrin deri në lartësinë 2,700 metra mbi nivelin e detit, përgjatë Valbonës dhe Parkut Kombëtar. Rrugëtimi vazhdon në kufirin me Kosovën, ku shtegtarët mund të qendrojnë në shtëpitë
We use cookies to improve your experience on our website. You can update your settings
here
.
The Via Dinarica hiking trail: a cultural corridor across the Balkans
TIPS & ARTICLES
The mission to bring adventure travellers to the Balkans and change those misperceptions began in 2010 when the first Via Dinarica project connected national parks in Bosnia & Hercegovina and Montenegro. In 2013 the trail from Slovenia to Kosovo was hiked and documented, with Macedonia added in 2015. That walk strung together ex-Yugoslavian trekking paths with former military tracks, ancient trading routes and shepherds' transversals. Today, nearly the entire hike is marked. (There are sections in Bosnia & Hercegovina, Montenegro, Albania and Macedonia awaiting signage.)
Slovenia to Croatia
Croatia to Bosnia & Hercegovina
Bosnia & Hercegovina to Montenegro
Albania to Kosovo border
Kosovo border to Macedonia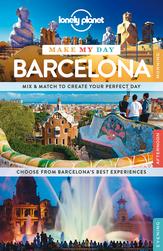 Make My Day: Barcelona (Asia Pacific edition)
£
Lonely Planet's Make My Day: Barcelona is a unique guide that allows you to effortlessly plan your perfect day. Flip through the sections and mix and match your itinerary for morning, afternoon and evening.
VISIT SHOP
One of the most challenging stretches of the Via Dinarica, the trail here follows the Shar mountain range. Long treks and high altitudes are balanced with glacial lakes and some of the most beautiful and remote landscapes in the entire region. Starting in the north, a ridgeline of peaks – there are more than 20 higher than 2500m – straddle the border between Kosovo and Macedonia, and then Macedonia and Albania.
The route starts with Mt Ljuboten, in the northwest corner of the country, and offers opportunities to sample some of the Balkans' best gastronomy. Bagging the peak of Mt Plat, for instance, is rewarded with food prepared by locals in Macedonia's
Mavrovo National Park
. Tackling Mt Golem Korab the highest point in Macedonia at 2764m, is countered with homemade breads, roasted vegetables, farm cheeses and wine in
Galičnik
village. The journey ends in Macedonia's capital
Skopje
and, undoubtedly, with conversations about which Via Dinarica leg to tackle next year.